Help Support the UGLA Scholarship Program!
Thanks to the generosity of our members and friends, we had successful programs in 2021 and 2022. For this program to continue into 2023 and beyond, we need ongoing support! This support will enable us to expand the program to cover applicants pursuing two-year degrees or vocational certificates in addition to those going on to four-year colleges or universities. Each of us can help make a difference for our youth as they pursue their dreams and help build a better future for all of us.
100% of all donations goes toward UGLA scholarships. You can make a donation in any amount … every dollar helps.
We would like to list you as a donor to the UGLA Scholarship Program. UGLA will not disclose the amount of your gift. If you'd rather not be listed as a donor, follow the instructions to opt out as you complete the donation process.
By making a donation of $1,000 or more,  you can establish a named scholarship "in honor of" or "in memory of" someone special to you. If you create a named scholarship with a donation of $1,000 or more, the name of your scholarship will also be listed.
Questions? Email us at [email protected]
There are two ways to donate.
By mail, using a check or credit card
Online, using a credit/debit card or your PayPal account
Donate by mail
Click the button below to download the donation form. After you complete the form, mail it to:
UGLA
PO Box 65111
Los Angeles, CA 90065
If you are donating by check, be sure to include the check. 🙂
Donate online with a credit/debit card or PayPal
After you click on the orange "Donate" button at the bottom of this page, the first thing you will see is a screen similar to this.
Fill in the dollar amount for your gift. Then select "Donate with PayPal" or "Donate with a Debit or Credit Card".
With either option, you will soon arrive at a screen that shows the amount you entered…in this example, $50.
If you selected "Donate with a Debit or Credit Card," fill in the details of your card.
If you selected "Donate with PayPal," simply verify the details of your PayPal account.
Non-member email subscription to the LGBTQ+ News ($10)
Click to fill out Application
If you would like to advertise in our UGLA Newsletter, visit our Newsletter Page for rates and ad sizes.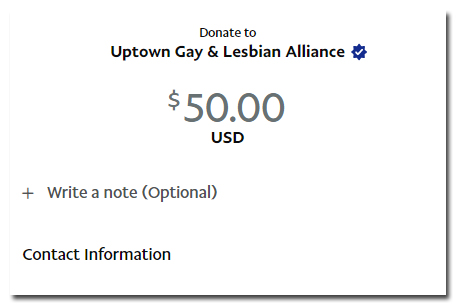 Now … and this is important … on either the debit/credit card screen or the PayPal screen, you will see the text "Write a note" below your donation amount. It could be a bit difficult to see, but it's there.
To assure that UGLA handles your donation according to your wishes, click on the "Write a note" text and enter one or more of the messages, as appropriate.
"Scholarship" if you are making a general donation
The name of your scholarship … if you are creating a named scholarship with a donation of $1,000 or more
"Do not list" … if you'd rather your name not be listed with other donors
And now, click …
UGLA thanks you! Our youth thank you!